ALF
SG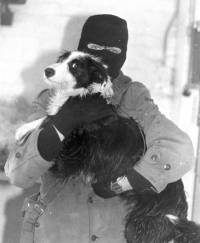 supporting the SG
Membership of the ALF Supporters Group is £2 per month, or £24 per year. A Standing Order (pdf

) allows us a steady income and the stability to provide the vital long-term support to the prisoners and members also receive the SG magazine, some of which are available on-line.
To subscribe to the ALF SG email list, either send us an email or subscribe automatically at: https://lists.rbgi.net/mailman/listinfo/alfsg
Thank you for supporting the ALF SG, You can download our b/w poster "One day people won't have to rescue..." (saved as a picture file), in either A3 or A2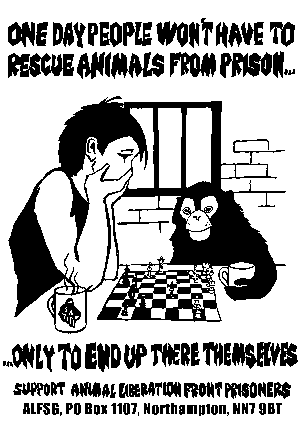 'Never doubt that a small group of concerned citizens can change the world. Indeed, it is the only thing that ever has.' - Margaret Mead
supporting the Vegan Prisoners Support Group (VPSG)
Also providing important support to UK vegan prisoners is the Vegan Prisoners Support Group (VPSG). The VPSG ensures that prisoners receive a nutritious and varied vegan diet, and have worked extensively with the prison service to this end.
For more about the VPSG, contact:
VPSG, BM 2107, London. WC1N 3XX
Tel/Fax: +44 (0)20 8292 8325
email: info@vpsg.org
www.vpsg.org; www.vpsg.info
supporting the Animal Rights Prisoner Support (ARPS)
Providing a website for support of those people who end up in prison for trying to help animals who cannot fight for themselves..